Blog | Electronic Musical Instruments | Casio | Electronic Musical Instruments | CASIO
So, you're thinking of buying a new piano or keyboard. Imagine it's unwrapped, out of the box and switched on. You're ready to go, but how do you know where to start? Wouldn't it be great if your new instrument came with some music that actually made you want to play and, more importantly, inspire you to keep practising and learning? 
With selected models of Casio keyboards and pianos, that's exactly what happens. Their new collaboration with Rockschool, one of the UK's leading music exam boards for Rock and Pop music, has produced a free downloadable digital sheet music book that starts you playing some of your favourite pop songs straight away. Forget having to begin your keyboard journey with dry technical exercises or tunes that you don't recognise: for the first time, you can begin by playing songs that everybody knows and loves, which means it's much more likely that you'll carry on playing. 
Not only are there some great arrangements of songs by Sam Smith, Justin Timberlake and Pharrell Williams, but the backing tracks to each song are included as well. This means that you can hear the drums,  bass and other parts of the song as you play the keyboard.
This is such an inspirational feature, as you're no longer practising 'on you own' and instead have a whole band to accompany you each time you play .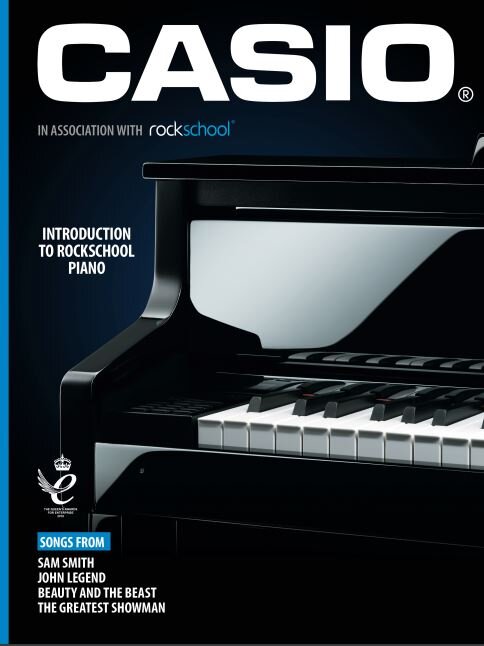 Every arrangement is produced by some of the UK's top educators at Rockschool, which means the challenges and musical techniques used are cleverly designed to inspire but not frustrate beginning players. The music is easy to follow, the presentation looks great and every piece offers an exciting challenge which keeps you coming back for more. Having a structured, properly-designed series of pieces is so much better for learning than struggling with YouTube videos, which are often over complex and not always straightforward. What's more, you can even use these songs in a Rockschool music exam if you wish.
Whatever style of pop music you're into, you'll find something of interest in the downloadable pack, which is included with selected models of Casio keyboard and piano*. There's a variety of styles on offer together with some specially-commissioned original pieces written by the Rockschool team.
If you're thinking of buying a keyboard or piano for you or someone in the family, but have been put off because you worry they won't stick to it, it's definitely worth giving a Rockschool-powered Casio instrument a go. As any music teacher will tell you, music practice should be fun and inspirational, and this new downloadable pack does just that.
 Products that include this FREE download are:
Keyboards:
Digital Pianos: